- HINT -
Use backspace button to return to full calendar
---
INFORMATION:
START: May 20, 2023, 8:00 am ENDED: May 20, 2023, 4:00 pm

Darnall Gun Works & Ranges
Tickets Remaining: 2
Bookings are closed for this event.
DEFENSIVE SHOTGUN 2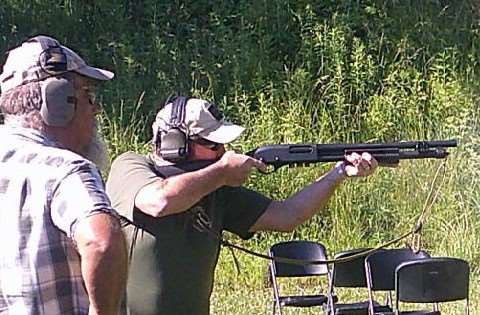 TIME:  8 - 4 PM
TUITION:  $130.00
A stand alone course that supplements Defensive Shotgun 1 but does not require a prerequisite.
Training starts with core skills to employ the shotgun in a home defense
situation. New drills are introduced that include multiple targets, shoot no-shoot
exercises, use of cover, kneeling fire and more. The course concludes with a realistic
exercise that involves movement in four directions with use of cover and reloading
skills. The curriculum presented in this class is designed for the average home owner
and does not require a specialized shotgun or equipment.
PACKING LIST:
✓ Eye & Ear Protection
✓ Semi-Auto or Pump Shotgun [Optics are
OK – No Race Guns]
✓ Slick Kit: Spare Ammo Carrier on Shotgun
is OK/ Belt Clip Ammo Carrier is OK. No
Tactic-Cool or 3 Gun Type Race Gear
✓ Ammo Count: 150 rds birdshot
✓ Range Attire – Dress for the Weather
✓ Lunch, Snacks, Drinks – We Will Eat on
Site
AT THE CONCLUSION OF
TRAINING YOU WILL:
✓ Engage Side & Rear Facing Targets
✓ Engage Multiple Targets
✓ Perform Realistic Combat Reloads
✓ Shoot from Behind Cover
✓ Shoot from Support Side
✓ Shoot from Kneeling Cover
✓ Move & Shoot Drills
CANCELLATION POLICY:
Cancellations made 30 days in advance of the course date receive a full refund.
Cancellations made between 20-30 days in advance of the course date may receive a refund minus $65 administration fee.
Students who fail to show or call on the course start date are considered to have forfeited their tuition.
Safety is paramount. Any student showing egregious unsafe gun handling, repeated dangerous acts, deliberate disregard to range commands or creating a disruptive environment may be required to complete the course with an empty firearm or required to leave without refund or recourse.
Students arriving without proper essential equipment may be required to postpone to a future course when they have the gear with them.
Copyright 2023. Firearm Training of Illinois - All Rights Reserved