- HINT -
Use backspace button to return to full calendar
---
INFORMATION:
START: May 28, 2022, 8:00 am ENDED: May 28, 2022, 4:30 pm

Darnall Gun Works & Ranges
Tickets Remaining: 3
Bookings are closed for this event.
CONCEALED CARRY – ESSENTIAL SKILLS with Ron Yanor as the instructor
Only 12 students
A one day course to expand end-user skills beyond the basic concealed carry course into a real world environment.  Training is based on a building blocks system with each lesson building on the previous. The tactics, techniques and procedures presented derived directly from proven methodology taught in protective service detail courses. At the end of training, attendees will be better prepared to respond to armed assailants in a public setting. Shooter of all skill levels will benefit from this tactics, techniques and procedures offered. Course Objectives:
Fundamental pistol presentations from Position 3
Draw pistol from concealed holster safely and effectively
Follow thru process to confirm initial threat is stopped, scan for additional threat
and provide 3600 awareness
Draw from holster while walking forward & backwards
Draw from holster with left, right and rear threat contact
Practical applied skills courses of fire
STUDENT PACKING LIST:
Eye & Ear Protection
Concealed Carry Pistol/Revolver [No derringers, micro-revolvers, pocket autos]
Spare Magazine or Speed Loader
Rigid Outside or Inside Waistband Holster [must be capable of re-holster pistol with one hand] Dominant Side Carry/ No Small of Back, Ankle or Shoulder Holsters
Cover Garment- Light Jacket or Shirt for Concealment
Ammo: 200 rds
CANCELLATION POLICY:
Cancellations made 30 days in advance of the course date receive a full refund.
Cancellations made between 20-30 days in advance of the course date may receive a refund minus $65 administration fee.
Students who fail to show or call on the course start date are considered to have forfeited their tuition.
Safety is paramount. Any student showing egregious unsafe gun handling, repeated dangerous acts, deliberate disregard to range commands or creating a disruptive environment may be required to complete the course with an empty firearm or required to leave without refund or recourse.
Students arriving without proper essential equipment may be required to postpone to a future course when they have the gear with them.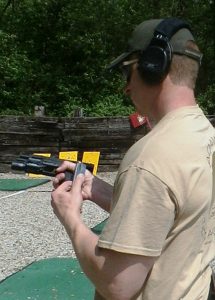 Copyright 2023. Firearm Training of Illinois - All Rights Reserved