- HINT -
Use backspace button to return to full calendar
---
INFORMATION:
START: June 19, 2022, 8:00 am ENDED: June 19, 2022, 4:30 pm

Darnall Gun Works & Ranges
Tickets Remaining: 1
Bookings are closed for this event.
DEFENSIVE SHOTGUN with Ron Yanor
Class size:  12 students
Provides students will skills to use their currently owned shotgun for self-defense in the home, using sound tactics and procedures from the tactical field. The course begins with core skills to operate the shotgun efficiently. Students will the learn the patterning characteristics of their own shotgun at varying distances and hold overs for using slugs.  Training progresses through a diversity of essential tactical skills that include multiple targets, follow through, combat reloads and movement.  The course concludes with a confirmation exercise that put the applied tasks to the test under induced stress. The course is presented in a building blocks format where new skills build on previous topics.
Determine pattern size for buckshot at 5-25 yards
Determine point of aim-point of impact of slugs at 5-25 yards
Presentation of shotgun in tactical manipulation
Follow thru process to confirm initial threat is stopped, scan for additional threat
and provide 3600 awareness
Emergency reload skills during combat
Use of furniture for cover/concealment
React to threat in left, right and rear contact
Realistic confirmation exercise
Packing List
Eye & Ear Protection
Shotgun: Pump or Auto Loader Recommended [Can be Field Grade/ any Barrel or Choke] No External Hammer, Pistol Grip, Single Shot or Bolt Action. Double Barrel is not Recommended- Please Bring a Pump or Auto Loader as Back Up
Ammo: Buckshot- 5 rds Slug- 5 rds    Birdshot- 150 rds
Lunch-Drinks-Snacks
CANCELLATION POLICY:
Cancellations made 30 days in advance of the course date receive a full refund.
Cancellations made between 20-30 days in advance of the course date may receive a refund minus $65 administration fee.
Students who fail to show or call on the course start date are considered to have forfeited their tuition.
Safety is paramount. Any student showing egregious unsafe gun handling, repeated dangerous acts, deliberate disregard to range commands or creating a disruptive environment may be required to complete the course with an empty firearm or required to leave without refund or recourse.
Students arriving without proper essential equipment may be required to postpone to a future course when they have the gear with them.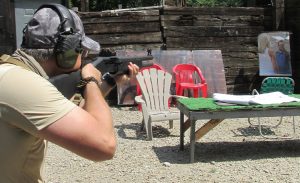 Copyright 2023. Firearm Training of Illinois - All Rights Reserved